w

ayne

h

u
Professor, Department of Astronomy and Astrophysics
University of Chicago
Music of Inflation
Key Concepts
Fundamental mode

of sound waves is related to the size -- in the microwave background context, the horizon.
Overtones

based on the fundamental mode form a pattern of sound that identifies its origin -- in the cosmological context the ultimate source of perturbations from inflation.
We think that fluctuations may have originated from a period of rapid expansion called inflation. Whether or not this actually happened can be "heard" in the microwave background. The fundamental tone of a musical system is related to its physical size - here the horizon size at last scattering.
There is also a pattern of overtones at integer multiples of the fundamental frequency.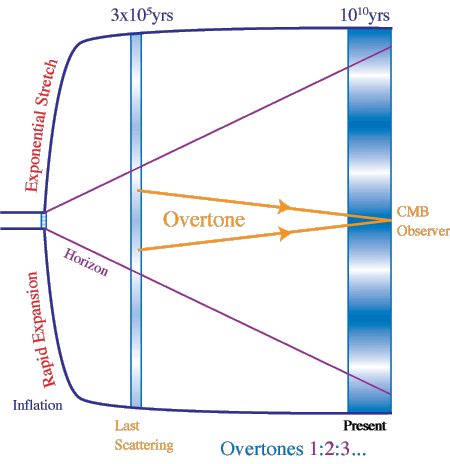 In music, the pattern of overtones helps us distinguish one instrument from another: it is a kind of signature of the instrument that makes the sound. In the same way, the pattern of overtones in the sound spectrum of the microwave background ripples acts as a signature of inflation. Inflation's signatures are that the overtones follow a pure harmonic series with frequency ratios of 1:2:3...